Mackvader of Powershift Performance
Currently Competing in the Bandit Big Rig Series of Racing
#88 Mackvader
1999 Mack Truck Repurposed as a Race Truck
Mackvader runs an MP7 engine in a 1999 Mack. As Mike describes the truck:
My truck is a Mack. I'm all about Mack. This truck is a ChampTruck. This is MY truck. I'm building it for the 2015 race season. It's been a life long dream to get into racing, but this was my opportunity to do it in a BIG truck. I've always missed the old days of racing in big trucks. They're bringing it back and I want to be part of it.
Truck Build Out
Mackvader was constructed by Mike in his home garage (carport) during nights and weekends throughout 2013-14 with a little help from friends, wife Wendy and son Mikey. Safety features were installed in the newly painted black Mack. The race engine was tuned and tested. Brakes and shocks were done and light weight aluminum wheels mounted. The rear end gear ratio was changed up and the Mack 300 series 5-speed race transmission installed. The exhaust system was installed. Additional cooling capacity was added in the form of a second radiator. A very special Mack factory grille was installed. You can follow the transition of Mike Morgan's discarded cut up Mack truck into a race truck in the slide show above.
The Mack Grille
The race truck sported a very special Mack factory grille that hung on the wall at the Mack Academy in Atlanta for many years before being signed by friends and family. Son Mikey Morgan also signed.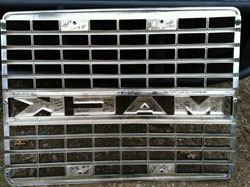 This grille was fractured when Mackvader kissed the wall during the first heat race at Pikes Peak International Speedway in 2015. It has been retired and now resides at Mike's home. The replacement Mack grille came from Mike's fireplace. He's all Mack! And yes, there have been many more grilles over the years.
2016 Rebuild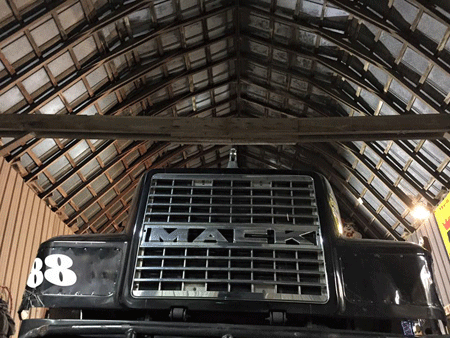 It's time to take the dog out of the barn and turn loose at the track!
Tour Mackvader & Shop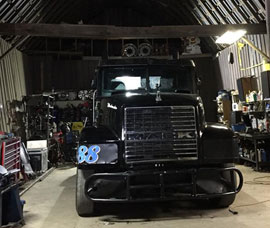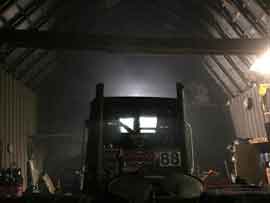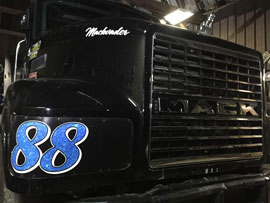 2017-18 Rebuild
After four major wrecks (two so bad that Mackvader could not finish the race and one that ended all racing for the night when Mackvader went over the safety wall and into the catch fence) Mackvader was due for some major work. The frame was straightened and squared up. Side intrusion pods were rebuilt and the hood replaced. Broken springs, bolts and such were replaced. The cab was adjusted and the engine tweaked. Mackvader seemed ready to run again.

2018 Engine Rebuild
After searching for the gremlin in the engine for the first three races of the year, the turbo blew destroying the engine and many components. Mackvader underwent "surgery" and his fierce "heart" was replaced with a "heart" of gold!
2019 Rebuild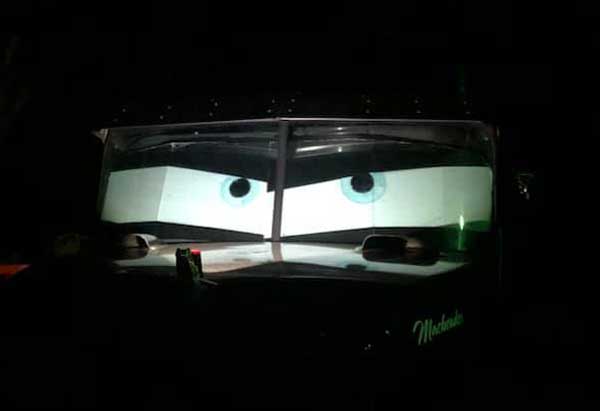 Contact Us
Powershift Performance, P.O. Box 225, Wartrace, TN 37183 • Email Us