Mackvader of Powershift Performance
Currently Competing in the Bandit Big Rig Series of Racing
Team #88 Mike
Mike Morgan: Owner, Builder, Driver
Mike Morgan has worked as a Master Tech at Mack Trucks for over twenty years and has received numerous achievement awards during his 20+ years in the trucking industry.
Mike drag raced while in high school, worked on the pit crew of his uncle's professional race car, and later raced his own Porsche with SCCA. Mike then converted a decommissioned Mack truck into a race truck.
My name is Mike Morgan. I've been working for Mack Trucks for more than fifteen years. This is MY 2015 ChampTruck that we'll be racing next season. We're looking to get this thing finished up, wrapped up here in the next few months, and start testing and tuning a little bit more. I'm really wanting to get into this thing full bore. We're gonna race as hard as we can and do all eight races next year. At the moment we're only able to do one race, all funded out of my pocket. But, we're looking to do a little more than that with this truck.
Mike went on to win the very first ChampTruck race (on a road course built for sports cars) and then took first place for the entire 2015 season. He continued to lead the pack on the road courses during the 2016 ChampTruck season until the series folded and the Bandit Series of oval racing began.
The 2017 Bandit race season provided several wins for Team #88, and several spectacular race ending crashes. Mike finished the season in a tie for third place. During the off season Mackvader was given a complete overhaul. With the start of the 2018 Bandit race season the race truck showed signs that it had a gremlin causing issues... sometimes... most of the season. Mike blew an engine, rebuilt, won a race, blew a turbo on track, made repairs, and came back to finish the season as Truck and Driver Fan Favorites. Then there was the demonstration race at Bristol Motor Speedway. Mike and Mackvader hit 140 mph on track before a new (but defective) tire blew sending him into the wall in the final lap (which they finished in second)! Maybe the gremlin is gone. The 2019 Bandit race season begins with a number of rule changes. Let's hope this series remains an exciting one for the fans and an affordable one for the race teams.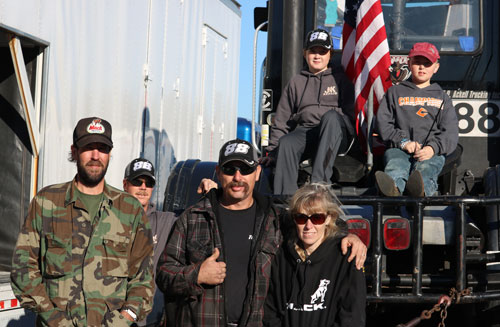 Race Crew
Matt Kuhn, a Mack Master Tech from South Carolina, serves as Crew Chief for Team #88 at most races. His quiet advice on race tactics and skillful work on the race truck have been invaluable, except for one instance. When advising Mike on how hard to push the truck at Pikes Peak International Raceway he said "push it until you hit the wall then back off." Mike took that literally.
A number of loyal fans and sponsors have served as crew members. Many thanks to Berkeley Dunnavant, Jeff & Dakota, Danny & Patrick Bruno, Steve Nash, Roger MacCardle and Ryan Bassett to name a few. David Hill takes many of the photos and Karen Hill (Mom) does the website, takes photos, and monitors points.
Wife Wendy keeps everything (and everyone) moving in the right direction, including Mike. Mostly Wendy stays in the background keeping an eye on the finances and logistics, but with her new camera she now also takes great photos.
Son Mikey has developed his skills at cleaning and polishing the truck, and sometimes helps change tires! Mikey also assists with loading and unloading the race truck, since he is now tall enough to drive the race truck (at the age of ten!). Look out Bandits!
Why "88-Mike"?
There are two reasons. (1)"Originally the cab of this truck was from a UPS truck," Morgan said, a company that had a long association with racer Dale Jarrett and the number 88. (2) Being a patriotic person, Morgan hoped ultimately to "be sponsored by the military. In the armed forces 88 Mike [88M] stands for truck driver. I want to be 88 Mike. I want to be the truck driver." (Before beginning the race truck build, Mike worked part-time hauling.)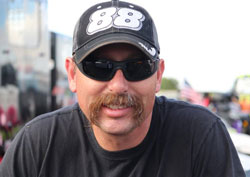 Mike Morgan, mechanic & driver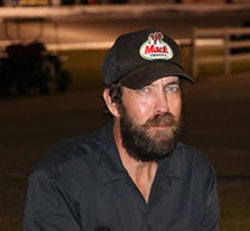 Matt Kuhn, crew chief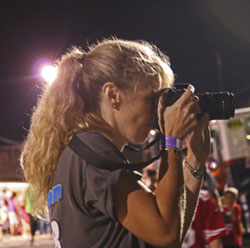 Wendy Morgan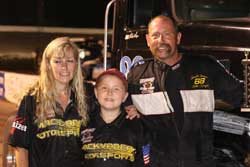 Wendy, Mikey, Mike
Contact Us
Powershift Performance, P.O. Box 225, Wartrace, TN 37183 • Email Us