Virginia International Raceway
Saturday, April 30 (Eastern Daylight Time)
8:00 to 8:45 am - ChampTruck Practice Session
The sunny day we expected, started with drizzling rain which turned to mist.
11:15 to 11:45 am - ChampTruck Qualifying
The mist turned to a drizzle. Morgan had the 2nd fastest lap time, but spun out before the bridge taking out a tire wall. Some superficial right side damage to Mackvader.
12:40 to 1:05 pm - ChampTruck Race 1
Morgan started in second position on the front row, but jumped into first. Unfortunately he slid off the wet track in turn T1, and was stopped by the tire wall before landing in the trees. He was followed by #17 who slid until he bumped #88. Ball, #17, was able to return to the track, but Morgan was mired in mud. When the shortened race (only 5 laps) concluded Morgan was pulled from the mud and finished his first lap.
2:05 to 2:30 pm - ChampTruck Race 2
Morgan started in the lead, followed by #17, #31, #3... After the first long turn (T1) #3 jumped into second. Coming out of turn T3 Boles in #3 accelerated, ramming the rear of #88 directly in front of a large group of Mike's family and friends. Instead of pushing #88 off track, #3 spun out, went off track and dropped to a distant last place. Morgan maintained the lead with some extra green paint on his rear bumper. In the seventh lap #31 slid off the track and was stuck in the same location that Morgan sat in the previous race. In the ninth lap #17 slid off joining #31 until the race ended. Morgan finished first (#88), followed by #73, then #23.
2:30 pm - Autograph session on pit road with free posters.
3:45 pm - NASCAR Race (55 laps), The Biscuitville 125
5:20 to 6:00 pm - ChampTruck Podium Race
Morgan started at the back of the field, part of a penalty because the Race Capture in his truck was not transmitting in the previous race. [#31 received the same penalty. Both were also disqualified from Race 2, receiving NO points.]
Even so Morgan moved from last to fifth place in the second lap, fourth place in the sixth lap and third place in the eleventh lap. #88 crossed the finish line in third.
Just before the awards ceremony the team was informed that there was a problem with Race Capture and they would not be awarded third for the podium race. Morgan was given a 30-second penalty for the infraction which eliminated his third place win, dropping him to fourth. [The Race Capture (Android Phone) which monitors top speed had been working until the 10th lap when it's mount broke loose and the phone spent the rest of the race zinging all over the floor instead of transmitting information.]
Points Standing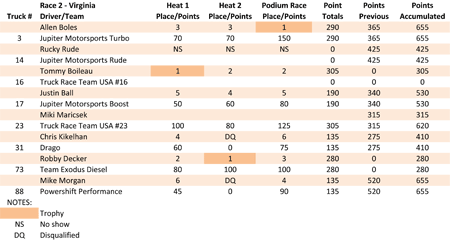 Race Videos
Road course (north) ~ Event Schedule
Qualifying:
Heat 1: uphill drift
Heat 2: Race start, After hit, Race
Podium Race:
Our Amazing Fans