Charlotte Motor Speedway, NC
This race was live-streamed at: www.MinimizerRacing.com.
Thursday, July 2
Move in and set up today. No public events.
Friday, July 3
Open practice, 12:00 to 12:30 and 2:00 to 2:30 pm. The first practice combined oval and inside road track. During the second practice drivers stayed mostly on the tighter inside track which combined with the heat proved too much for the tires. Most drivers suffered some degree of separation on at least one tire. Officials decided to go back to the race layout of the first practice.
ChampTruck Qualifying, 4:00 to 4:15 pm. Mackvader qualified in third with a time of 2:07.214 behind Mike Ryan and Tommy Boileau, so will begin the next race in third position.
Driver Autograph Session, 5:00 to 5:45 pm. Moved up before the first heat race. We had a big crowd for the new red ChampTruck poster autographed in person by all the drivers!
Heat Race #1, 6:10 to 6:30 pm. Mike Morgan finished in 4th place behind Brad Klemmenson (#54), Mike Ryan (#31), and Tommy Boileau (#23). A tight race for most of the drivers. Long runs around the oval then tight racing in the curves of the much narrower inside road track. When #54 passed he bumped Mackvaders left rear wheel and fender which then flapped the rest of the race. But that's racing! Best lap time for Mackvader was 2:03.839.
Heat Race #2, 8:10 to 8:30 pm. Start order was inverted from finish order of Heat Race #1. This is the first ChampTruck race under the lights. Lots of lead changes. A bunch up in the inside turns during the second lap resulted in some sideways racing just behind Mackvader, but fortunately no wrecks. [#31 was clipped by #54 and spun out. When #31 returned to the track he spun again and stopped facing #23. #63 went off track avoiding the mess.] Mackvader lead for two laps but a temporary loss of power resulted in a slip to fourth place which was maintained until the checkered flag. Best lap time for #88 was 2:04.478.
Saturday, July 4
Open Practice, 11:00 to 11:30 am. Fox network filming Larry McReynolds in #11.
Heat Race #3, 12:45 to 1:05 pm. Race order was inverted from the finish order of yesterdays last race. #63 spun out, loosing his position near the front of the pack. A dustup in the middle of the race brought out the caution until all the trucks were once again moving in the same direction. Several had visible damage, but all continued under their own power. Mackvader evaded damage and moved into second place behind #3, which is how they finished. Best lap time for #88 was 2:04.454.
Driver Autograph Session, 2:30 to 3:00 pm. Lots of folks showed up for the prized (and free!) new red poster autographed by all the drivers.
Heat Race #4, 3:20 to 3:40 pm. Race start inverted from previous finish. Lots of position changes. Mackvader took out cones and tires exiting inside corner 1 in an effort to prevent #54 from passing. The last attempt by #54 to pass was just before Mackvader crossed the finish line in third place with a realigned bumper. Best lap time for Mackvader was a sizzling 2:02.661.
Heat Race #5, 7:00 to 7:20 pm. Cancelled due to heavy downpour that stopped ALL racing at the track.
Podium Race, 7:30 to 7:50 pm (revised time). Start order inverted from previous race. Track was still very wet, so special rules were in place because of those conditions. Lots of spin outs and slides. Mackvader ran a clean race, finishing fourth. #54 crossed the finish line first but was penalized for an infraction that dropped him to second place. Best lap time for Mackvader on the wet track was 2:15.440. [Because of intermittent light rain we have few photos of this race.]
Concert and Awards Ceremony, 9:00 to midnight. No trophies for Mackvader this time, but music and dancing for the team with fireworks in the distance. Our 88 1/2 even danced with a friend for the first time..
Race Videos
Heat #1 finish (Minimizer)
Heat #2, #54 power loss (Minimizer)
Heat #2 finish (Minimizer)
Heat #3, #54 spin out (Minimizer )
Heat 3, #31 spin out (Minimizer)
Heat #3 finish (Minimizer)
Heat #3 complete (GoNMF, some ads)
Heat #4 finish (Minimizer
Podium race finish (Minimizer)
Award change due to infraction (Minimizer)
Our Fans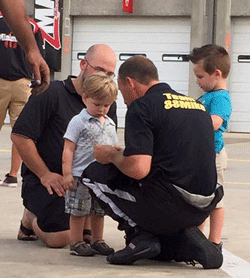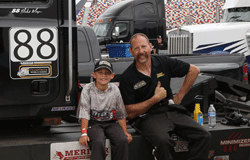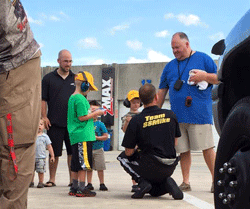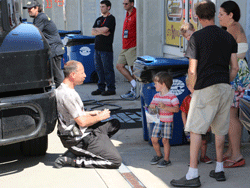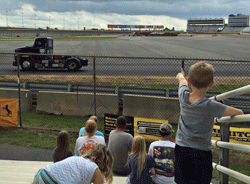 Thumbs up for Dad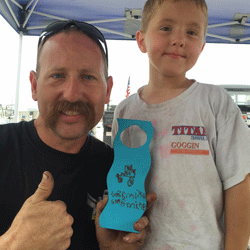 A good luck drawing from 88 1/2