New Jersey Motorsports Park
Thursday, April 23
ChampTrucks were introduced to the media with interviews and ride-alongs on the Lightning Course of the New Jersey Motorsports Park in Millville, New Jersey. Many of the trucks had their first run on a race course. Ditto for most of the drivers.
Friday, April 24
Serious practice today with lots of small adjustments, plus track time! Mackvader is doing well and will be a serious challenge for the other racers tomorrow. Seven trucks made it to the track fully built. That number will increase with each race as more trucks are completed.
Saturday, April 25
Qualifying: First Place for 88-Mike with a best lap time of 1:32.
Race 1: First Place for 88-Mike
Race 2: Second Place
Sunday, April 26
Race 3: First Place
Race 4: Second Place
Podium Race: First Place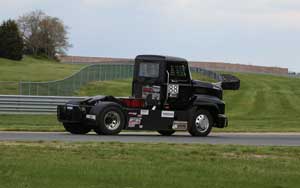 Race News and Videos
RACE PREPARATIONS
On-track video #221, First Practice Lap
On-track video #224, Just getting a feel for the track
On-track video #231, Working out some small performance issues
RACE 1
Champ Truck World Series Inaugural Race Heat 1
Race video #367, Challenging turn 7
Race video #368, 88-Mike being chased
RACE 2
Race video #415, They're off!
Race video #472, #14 Ricky Rude leads with 88-Mike chasing, then #11 Mike Ryan
Race video #476, Race finish with 88-Mike taking second
RACE 3
Race video #482, The race begins
Race video #497, 88-Mike in second
Race video #498, 88-Mike in FIRST!
Race video #504, The checkered flag
Race video #505, The winner comes in
RACE 4
Photos only this race.
PODIUM RACE
Race video #569, A close look at all seven trucks as they head out
Race video #575, 88-Mike in 6th place
Race video #576, 88-Mike in 3rd place
Race video #587, 88-Mike in 1st place
Race video #590, Checkered flag under caution
Race video #581, The winner returns with #14 following in second place