Mackvader of Powershift Performance
Currently Competing in the Bandit Big Rig Series of Racing
2019 Bandit Big Rig Races
Race Schedule
| | | |
| --- | --- | --- |
| When | Where | Detail |
| Sat, March 23 | Mobile International Speedway, Irvington, AL | 1 |
| Sat, April 27 | Myrtle Beach Speedway, Myrtle Beach, SC | 2 |
| Sat, May 11 | TBD | 3 |
| Fri, May 24 | Madison International Speedway, Oregon, WI | 4 |
| Sat, June 8 | Salem Speedway, Salem, IN | 5 |
| Sat, June 22 | I-44 Speedway, Lebanon, MO | 6 |
| Sat, July 13 | Lake Erie Speedway, North East, PA | 7 |
| Sat, July 27 | Elko Speedway, Elko, MN | 8 |
| Sat, Aug 17 | Kalamazoo Speedway, Kalamazoo, MI | 9 |
| Sat, Aug 31 | Five Flags Speedway, Pensacola, FL | 10 |
| Sat, Sept 14 | Hawkeye Downs Speedway, Cedar Rapids, IA | 11 |
| Sat, Oct 12 | Bristol Motor Speedway, Bristol, TN | 12 |
Bandit race trucks and drivers have a busy season ahead with 10 or more events on oval tracks. With $50,000 in prize money up for grabs at each event ($10,000 for the first place winner) there will be a lot of "bumpin and rubbin" and some outright crashes. The big-rigs circle the tracks with faster trucks lapping the slower ones, going two and three wide in the turns. This is racing like it used to be, with lots of excitement for the fans. Before racing begins all race trucks and drivers line up in front of the stands and the gates are thrown open so fans could greet their favorite drivers, have fan cards or apparel signed, and inspect the race trucks.
Generally each truck runs at least one Shootout race and then three full races: one Heat Race of 10 laps; one Challenge Race lasting 15 laps, and the Main Race with ALL the trucks on the track for a 30-lap race. This is exciting family fun! We hope you will be there!
If you didn't make it to the races, then watch the action from anywhere in the world on the live-stream video posted on each race page.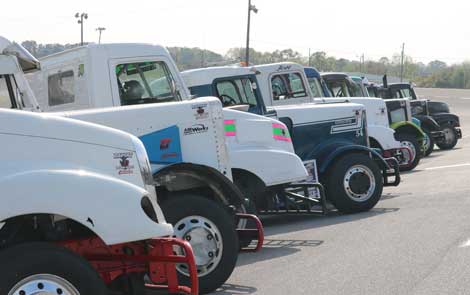 Race Winners
| | | | | |
| --- | --- | --- | --- | --- |
| | $10,000 + Trophy | 1st | 2nd | 3rd |
| 3/23 | | | | |
Race Merchandise
Shirts, hats and more can be purchased at the race track during Bandit events or online at the Bandit Store.
Drivers & Teams
88 - Mike Morgan of Mackvader Motorsports in all black Mack with twin black stacks
74 - Mark Noble of Kruckeberg Motorsports in white Volvo with green and pink stripe
66 - Kruckeberg Motorsports, red over white Ford Aeromax
63 - Cody Slowinski of Kruckeberg Motorsports in white over black Peterbuilt with red stripe
55 - Craig Kruckeberg of Kruckeberg Motorsports in blue Ford, "Godfather" in "Tonk"
54 - Tyler Kruckeberg of Kruckeberg Motorsports in white over dark blue Kenworth
51 - Lyndon Johnson in white Freightliner with pink trim
46 - Brian Cash of Whitmire Motorsports in silver and turquoise Mack
41 - Marshall Davis of Jupiter Motorsports in deep blue Volvo with white chevrons
29 - Tim Trom in red Peterbuilt
27 - Darren Proffitt of Proffitt Motorsports in white Peterbuilt with blue and red fenders and twin stacks
17 - Justin Ball of Jupiter Motorsports in black Peterbuilt with purple trim
16 - Tommy Boileau of Caesars Truck Racing in black Volvo with neon yellow graphics
14 - Ricky Rude Proffitt of Rude Motorsports in blue over red Peterbuilt with yellow flames
13 - Bob Mitchell of Mitchell Motorsports in white Freightliner with red trim and one stack
7 - Jon Lisenbee of JSL Motorsports in black with green trim Peterbuilt
5 - Tim Ashley in white Peterbuilt with red fenders (rookie)
4 - Scott Treadway of Treadway Motorsports in black Western Star with flag graphic
3 - Alan Boles of Jupiter Motorsports in lime green Peterbuilt
Contact Us
Powershift Performance, P.O. Box 225, Wartrace, TN 37183 • Email Us