Powershift Performance 2017
BIG Trucks... REAL Racing!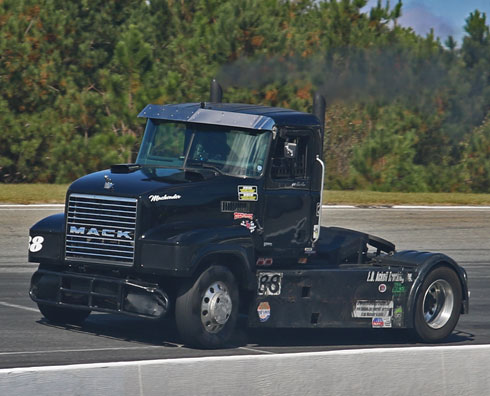 2017 Bandit Big Rig Race Series
Bandit race trucks and drivers had a busy season with 13 events on oval tracks ranging from 1/2 mile to 1/4 mile in size. With up to $50,000 in prize money up for grabs at each event there was a lot of "bumpin and rubbin". Up to 17 big-rigs circled the tracks with faster trucks lapping the slower ones, going two and three wide in the turns. During intermission the race trucks and drivers lined up in front of the stands and the gates were thrown open so fans could greet their favority drivers, have fan cards or apparel signed, and inspect the race trucks.
This is racing like it used to be, with lots of excitement for the fans. If you didn't join us for the 2017 inaugural race season, then plan on coming to one of next years events. This is exciting family fun and we hope to see you there!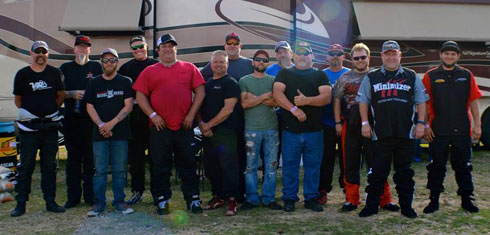 2017 Bandit Race Season
Crisp Motorsports Park, October 28th & 29th
Mike Morgan and Mackvader finished 1st in their Heat Race, but then the skies opened and heavy rain fell causing a postponement of the rest of the races until the following afternoon. When racing resumed Morgan took Mackvader over the finish line of their Challenge Race again in 1st place. The A-Main Race had a 12-position inversion placing the #88 in 12th place for the start. After a couple yellow flags for spinouts and bumps the #88 worked up to 3rd for the finish behind #16 and #17.
When awards were handed out for the accumulated Passing Points Ricky Rude took 1st, Tommy Boileau took 2nd, and Mike Morgan and Justin Ball tied for 3rd! Details and video
Hickory Motor Speedway, October 14th
Mackvader finished 2nd in the Heat Race and 2nd in the Challenge Race. This placed the #88 in fourth for the A-Main Race until the pill was drawn, resulting in a twelve truck inversion. Mackvader started in 9th. The first lap was without incident. In the second lap the #17 and #63 bumped going three wide in turn 1. The #63 went sideways on the track and everyone behind him crashed into something or someone. The #88 went high behind #16; the crash took out #88s front end and took off #16s rear bumper. Without hood, steering, radiator, and gear box #88 was done for the night. Details and video
Florence Motor Speedway, October 7th
Against all odds and after a tremendous amount of work by Mike Morgan, he was able to race Mackvader at Florence. He took a 4th in Heat #2, 1st in Challenge #2, and nearly took a win in the A-Main Race, loosing 1st place to Rude's #14 by a fishtail! Mackvader is BACK! Details and video
Highland Rim Speedway, September 23rd
Morgan and Mackvader finished 2nd in their heat race and 1st in their challenge race. In the A-Main Race Mackvader was hit first in the rear and then in the side by Allen Boles #3 driving Morgan into the wall coming out of Turn 4. Then the rear end of #3 smacked the #88 sending it over the wall and into the catch fence. The #3 rode the wall down the straight away. Both drivers were okay but both trucks were done, as was the track. The race night ended with a massive clean up to follow. Details and video.
Lebanon I-44 Speedway, September 2nd
Morgan finished 2nd in his heat race, 2nd in his challenge race, and 2nd in the A-Main Race with no serious damage to the #88! All in all a very good race night. Details and video.
Lebanon I-44 Speedway, August 5th
While Bandits were enroute to the track weather predictions changed from 0% chance of rain to 100%. Heavy storms struck before noon of race day and were predicted to continue for several days. The area was even under a flash flood watch and some roads were closed by race time. With all the Bandits gathered it was decided that a live-stream of an informal question and answer session would be entertaining for the Bandits and their fans. So for a two-hours the drivers answered fan questions (online, facebook) both fun and serious. Details and video.
Madison International Raceway, July 28th
Morgan won his heat race from a 4th position start and he won his challenge race from a 1st position start. The top ten truck positions were inverted for the A-Main Race, which meant Morgan started in 9th (the fifth row). The #88 had moved up to 3rd and was lapping the slower trucks when he sustained a hard hit between #54 and #14 that ended the race for #88. Details and videos.
Hawkeye Downs Speedway, July 15th
Mike picked up a win in Heat 2, a 2nd in Challenge1, and lead the A-Main Race for twelve laps before locking bumpers with #63 as he lapped him. Both went into the styrofoam wall (can't describe it, must see it rain styrofoam!). #88 and #63 were sent to the back for the restart, but in three laps Morgan moved up to 3rd! Details and videos.
Highland Rim Speedway, July 1st
On this half-sized, quarter mile oval track passing was difficult and straight-a-ways non-existent Morgan won the A-Main Race in which 4 of 15 trucks did not finish! Details and videos.
Greenville-Pickens Speedway, June 10th
88-Mike won a tough A-Main Race and received the prized $10,000 check! Lots of bumpin' and rubbin' with multiple cautions, but Mike held the lead for the last eleven laps. Details and videos.
Florence Motor Speedway, May 20th
Mike Morgan placed 2nd in his Heat Race, 1st in his Challenge Race, and 4th in the A-Main Race. Details and videos.
Montgomery Motor Speedway, May 13th
Morgan had three 3rd place finishes and no crashes--a good weekend! Details and videos.
Greenville-Pickens Speedway, April 15th
The trucks ran in two heat races with Morgan taking 2nd in his heat. The 14 race trucks were again split into two Challenge Races with Morgan winning the second race. In the feature event Morgan moved from 7th to 3rd, but Ricky Rude in #14 took the win. Details and videos.
Hickory Motor Speedway, March 25th
The 13 race trucks at the track were split into two Heat Races, then two Challenge Races, and then everyone raced together in the featured race. Winner of the feature event, Robby Decker in #6, took home a $10.000 check! The rest of the teams shared prize money. Details and videos.
Favorite Videos
Links to Articles