Appearances 2016
November 19 --Turismo Drift with HellaFresh Nashville Car Show & Drift at Nashville Fairgrounds Speedway. Mike Morgan returned to drift his semi during the halftime show! Drone/GoPro ~ Video 1 ~ Video 2 ~ Video 3
November 5 -- Last Bandit Big-Rig Race of 2016 at Crisp Motorsports Park in Cordele, GA. Mackvader finished 2nd in his heat race of five trucks. In the feature race Morgan started in 5th, moved up to 2nd in the first lap, then the left rear wheel was nailed by #17 as he attempted to pass #88. The rim shattered and the tire went over the outside wall. This spun #88 in front of #17. #88 then did a complete spin before heading in under caution. Once in the pit the missing tire and destroyed rim were put in place and Morgan returned to the track in time to finish the race in ninth place. Wreck video ~ GoPro video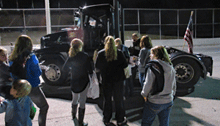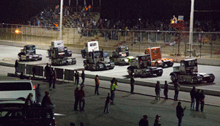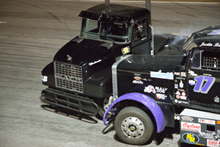 November 4 -- Mack and Volvo Trucks Academy in Atlanta, GA.
October 15 -- Sayonara Summer -- Mike Morgan was there with his race/drift SEMI truck hosting our tire changing contest and showing off his mighty MackVader to the world! An amazing dude and his absolutely incredible machine! This thing puts down 3000 tq.... wow! At Gateway Classic Cars in Lavergne, TN. Raw drift footage.
October 8 -- Made some donuts at the Toys for Tots Car Show and Wilson County Fair
October 1 -- Mackvader and crew were at Cars and Coffee in Franklin, TN between 8-10:30 am. Then from 2:00 to 4:00 pm we had a Meet and Greet on Ravenscourt Drive in Thompsons Station, TN. Lots of fun for everyone!
September 17 -- Volvo/Mack Power Day in Hagerstown, MD. Mackvader made some new friends!
August 6 -- Bandit Big Rig Race Series at Greenville-Pickens Speedway in South Carolina. Videos Race 1: Pre-crash, forward, behind ~ Videos Race 2: forward part 1, forward part 2 ~ Fans
The first race of 15 laps (10 trucks) began with Morgan on the outside of the front row (2nd). He pulled out in front during the first lap and was ahead of the big crash. On the first turn of the second lap Aaron Kaufman in #54 locked up his rear brakes and spun with Justin Ball in #17 giving him a very hard hit; Scott Treadway in #4 and Darren Proffitt in #26 plowed into the wreckage. The race stopped while the carnage was cleared. When racing continued Morgan kept his lead for a few laps but was passed by Rick Proffitt in #14. In the last lap #3 hit #88 especially hard, spun, then went into the wall of Turn 1 hard. Morgan finished in 2nd place behind Ricky Proffitt's #14.
The second race of 25 laps began with Morgan 7th of eight trucks. Morgan worked his way up through the pack along with Robbie Decker in #73. Then in the 23rd lap Morgan made contact with Decker sending him spinning. Morgan finished in 3rd behind Rick Proffitt in #14 (1st) and Chris Kikelhan in #31 (2nd).
July 30 -- Bandit Big Rig Race Series first race at Anderson Motor Speedway in Williamston, SC. Schedule of events ~ Video Race 1 ~ Video Race 2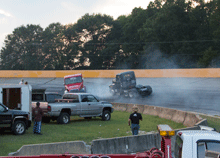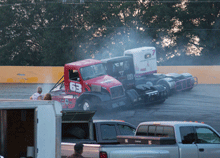 Morgan drew a 5th place start in a field of 9 trucks for the first race (marked bottle caps from a box). He moved up to 4th in the first lap and 2nd in the second lap behind Ricky Rude's #14. By the seventh lap they were lapping other trucks, some of which tried to block Morgan. During the 12th lap Morgan was passing low in Turn 3 when red #63 pulled into him and spun out. In spite of the crash Mogan's #88 continued to race, although a caution was quickly called with #63 sitting backwards on the track and minus some parts. With the restart Morgan pulled past Rude's #14 to move into 1st place. Although he hit the outside wall in Turn 2 during the fifteenth lap, Morgan continued racing all twenty laps, finishing in 1st place for the inaugural race of the Bandit Big Rig Race Series!
The second Bandit race of the evening was twenty-five laps long with the start order inverted from the previous finish, ie. Morgan started last (9th). By the third lap #88 was in 6th, then fifth in the next lap and 4th in the lap after that. In the sixth lap Morgan's #88 moved into 2nd behind Rude's #14 and stayed there until the 25 lap race finished.
---
June 17-18 -- ATCA truck show at Macungie Memorial Park (PA). Mackvader was on display at the Antique Truck Club of America Show along with many other awesome trucks.
---
June 4, 2016 - Wartrace Music Fest. Mike Morgan and Mackvader visited with folks while enjoying some good music. Details at WartraceMusicFest.org.
---
May 28, 2016 - Turismo Drift at Nashville Fairgrounds Speedway. Watch Morgan drift Mackvader to the delight of the crowd. See: A Weekend in Nashville - Video 1 - Video 2 - Video 3
---
March 31-April 1 Mike Morgan was at the Mid-America Trucking Show in the Kentucky Exposition Center in Louisville, KY, at the Bosselman Boss Shop booth. See MATS Gets Rolling Today and 2016 Mid America Truck Show: What You Need to Know.
ChampTruck 2016 Races
After three race weekends in 2016 with six to eight trucks racing, only two trucks registered for the fourth race.
As of 6/13/16 ChampTruck posted this statement on their website: "ChampTruck has suspended operations while we restructure the series."  We will keep you posted as news becomes available.
Meanwhile Mike Morgan and Mackvader, the 2015 National Champions and points leaders for 2016, will continue their public appearances.
Our Fans