Powershift Performance 2015
BIG Trucks... REAL Racing!
Mike Morgan - 2015 National Champion Driver & Powershift Performance - 2015 National Champion Team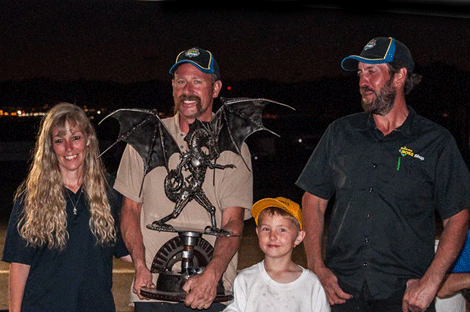 Mike Morgan accepts the Drivers Award for most points throughout the 2015 Meritor ChampTruck race season, accompanied by Wendy Morgan, Mikey Morgan and Matt Kuhn.
At the final race of the 2015 season at Las Vegas Motor Speedway in Nevada, Mike Morgan and Powershift Performance finalized a championship win! FIRST place for driver Mike Morgan and FIRST place for the Powershift Performance team and Mackvader!!!
Mike Morgan, aka "88-Mike", of Powershift Performance raced his Mackvader big-rig in the new 2015 Meritor ChampTruck World Series on major road tracks across the USA. Mike and his truck Mackvader (PowerShift Racing) captured the points lead the first race weekend and finished the season FIRST IN POINTS! No one else ever lead in this points race. This is a major achievement in a new race series.
To my family, friends and fans:

[With the finish] of our first season we are just amazed at how far we've gone in three years. The idea of this great adventure started when we talked to Mike Ryan at the M.A.T.S. about racing a semi truck in "ChumpTruck" three years ago. The following weekend our 1981 R model Mack was on the build. But many rules were changed and they were changed several times which meant our Mack would no longer be competitive or even qualify. ChumpTruck became ChampTruck. I was forced to trade my two older R model Macks for one newer Mack and thus began the build of Mackvader.

From New Jersey to where we are now we have come so far with so little and would like to thank EVERYONE that has been involved in this epic experience. My fans first, you are my driving force. I am so lucky to have met so many amazing people all across the country. My family, my wife Wendy and son Mikey, Thank you for everything you have done and put up with. You are my rock. You keep me grounded. I love you both! My Mom and step father David, Thank you for your support and help and awesome website and photos of all the crazy moments. My step mother Gayle thank you for the support, Matt Kuhn, I owe you and have no idea how to pay you back but will work on it!! Jim Boyd, our first videos are still the best! Steve Nash and Family, you brought me in out of the cold and have been there supporting us. Ryan Bassett, thanks for being there when we needed it.

So many other people [have helped] along the way that it's impossible to list them all. Just know that Team #88 Mike knows who they all are and appreciates every single one. Also big thanks to our friends at Winrock Truck Parts: Bill, John, Casey. You have had my back when I needed it the most. Also very much appreciated E.D. Ackell Trucking Inc., Bosselman Boss Shops, FindItParts, DEX, Steve Nash Trucking, Big Rig Videos, Meritor, Continental Tire, Optima Batteries, Minimizer and our friends at BMT.

Mike Morgan, Team #88 Mike
---
MUST WATCH: Meet Mike Morgan Video
---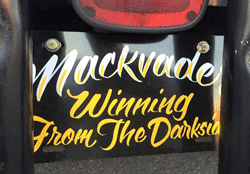 Mikey's creative contribution to the race truck